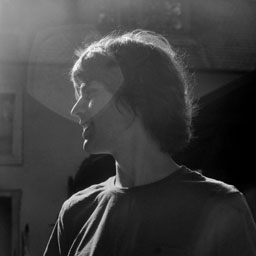 photo - Aňa Šebelková
Martin Klusák (b. 1987) is an Czech composer, sound designer, and intermedia artist, graduate of the Academy of Performing Arts in Prague in sound design and composition, with a portfolio of internationally premiered and performed works.
His work ranges from composition and sound design for film, television and radio, to original music and intermedia projects that often cross the boundaries of music and sound arts and touch upon other artistic disciplines. He regularly collaborates with the Prague Berg Orchestra, which has already performed six of his compositions (In Paradisum 2013, L'Étoile de Mer 2015, Praevernal 2016, Eclipse 2018, In B 2020, Kwaidan 2021). His current work explores the intersection of music and film. He has created several original music-experimental films (Preavernal 2017, Svídna 2020, Rebirth 2022) and is preparing new original audiovisual projects. He is also one of the founders of the Topos Kolektiv group, which explores the boundaries of music, theatre, visual arts and architecture in an experimental way through site-specific performances with premieres in the Czech Republic and abroad. He is currently working with this collective on a music-sound design album composed of the sounds of transmitters in the Czech landscape to celebrate 100 years of Czech Radio. In 2017, he founded the group PET(m)use, an experimental collective of musicians and architects, with whom he developed and presented a two-year music-scene project until 2019.
During his creative career he has collaborated with major Czech ensembles, institutions and festivals (regularly with the BERG Orchestra, Czech Radio, Czech Television, Prague Philharmonic Choir, The International Shakuhachi Festival Prague, Hudba v souvislostech, Janáček May, The Czech Chamber Philharmonic Orchestra Pardubice, Ensemble Terrible and others).
He has also received numerous awards, including finalist in the 2016 Phonurgia Nova Awards in Paris, Honorable Mention at the Experimental Forum LA 2017 and Deep Focus Film Festival NY 2021, Grand Prizes in the 2012 Prague Philharmonic Choir Competition and the 2014 Janáček May Festival Competition, and the People's Choice Award in the 2013 BERG Orchestra Competition, Best Czech Electroacoustic Composition Award in the Musica Nova 2011 and 2014 competitions, the OSA Award for Most Successful Young Composer 2014, and others.
His artistic projects have been presented abroad (UK, France, Germany, Netherlands, Finland, Estonia, Japan, USA) and films with his music have been premiered at domestic and international festivals such as Karlovy Vary IFF, Ji.hlava IDFF, Quinzaine des Réalisateurs Cannes, Festival international du film d'animation Annecy and many others. As a composer, he collaborated on the short film Happy End (2015, directed by Jan Saska), which was shortlisted for an Oscar nomination in 2016.
Between 2019-2021 he was the music dramaturge at the Czech Radio Production Centre, where he continues as a permanent freelancer from 2021. Since 2022, he has also leads courses at the Academy of Performing Arts in Prague in Film Music, MAX/MSP Music Programming, History of Acoustic Arts, and Fundamentals of AV Technology.